Image via WikiMedia Commons
Later this year, the first of what will eventually be six Walmarts will open in the District of Columbia. That's one supercenter for every 10 square miles of DC. When they're all up and running, there will be 26 Walmarts within a 30 mile radius of our nation's capital.
That's a whole lot of Walmart, which means a whole lot of pressure on smaller local businesses. Groceries in particular will feel the pinch as Walmart has become the dominant force in American grocery sales, despite the fact that, as reported by Grist, they're not very good grocers.
Tracie McMillan, who did a stint working in the produce section of a Walmart store while researching her forthcoming book, The American Way of Eating, reports much the same. "They put a 20-year-old from electronics in charge of the produce department. He didn't know anything about food," she said. "We had a leak in the cooler that didn't get fixed for a month and all this moldy food was going out on the floor." Walmart doesn't accept the idea that "a supermarket takes any skill to run," she said. "They treated the produce like any other kind of merchandise."
Ah, but there's a twist! The six Walmart locations are predominantly in lower income neighborhoods; Anacostia and other points east. This owes to the fact that the large amounts of square footage needed for a Walmart are more easily and cheaply obtained in economically depressed areas. More to the point, some of these areas are food deserts, poor neighborhoods with low access to fresh, healthy foods.
Here's a map of DC's food deserts (in pink), put together by WAMU: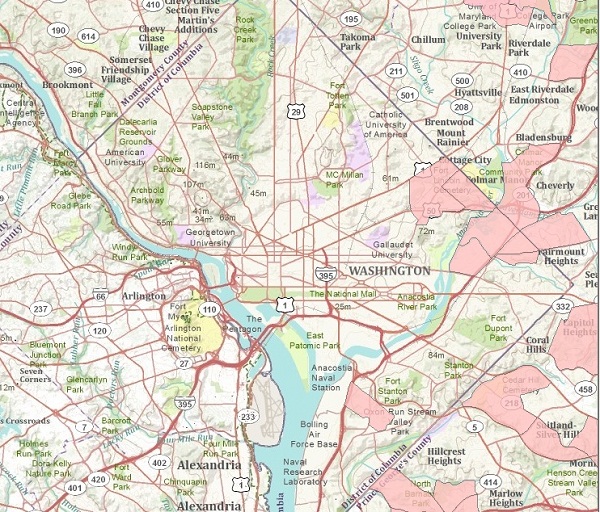 Here's a map from the Washington Post of the first four planned Walmart locations. Note the overlap. In November, Walmart announced they were opening two more stores, one of which is at Naylor Rd. and Alabama Ave. SE, on the outskirts of the Anacostia food desert seen above.
As Grist puts it, this part of Walmart's strategy to capitalize on food deserts
Walmart has renewed its push to get into big cities, after trying and failing a few years ago. This time the company has honed a fresh strategy that goes right to the soft underbelly of urban concerns. In July, Walmart officials, standing alongside First Lady Michelle Obama, pledged to open or expand as many as 300 stores "in or near" food deserts.

Walmart sees underserved neighborhoods as a way to edge its camel's nose under the tent and then do what it's done in the rest of the country: open dozens of stores situated to take market share from local grocers and unionized supermarkets.
It's tough to put a sinister spin on this. A low-cost grocery store opening in an impoverished neighborhood with a dearth of healthy food options is obviously better than the alternative, even if the food is mishandled. If forced to choose between a Walmart or a phalanx of cheap burger-fried chicken-bulging burrito greaseterias, Walmart wins handily. Viewed from a broader angle, though, the problems with DC's Walmart saturation are manifest.
Consider, first and foremost, the food. Walmart's business model is to sell lots for the lowest price possible, which means that most of what you'll buy at the average Walmart (or any large supermarket, for that matter) is the product of industrialized farming. This even applies to the "organic" foods that supposedly obviate the problems associated with factory farms. Pressure from giants like Walmart has essentially industrialized the organic food industry. The large-scale production keeps prices low, but at a potentially steep cost -- the years-long rash of E.coli contaminations in ground beef being a fine example.
Walmart's takeover of the grocery market is too recent a development to have been studied in any great detail, but it's not difficult to game out the likely scenarios: depression of small grocers, and market consolidation. That, after all, is what Walmart does. They price out the competition. And not just in the groceries market. Walmart is where people go to do all their shopping -- you pop in for a few heads of iceberg and a flatscreen. There's even research to show that Walmart expansion correlates with increased poverty.
You could argue that Walmart is a big employer and that six Walmarts would mean a lot of jobs for the District. They would, but those too come with costs. Walmart's treatment of its employees sometimes reaches Dickensian levels of abuse and neglect. Gaps in health insurance coverage and strict anti-union policies leave Walmart employees at the mercies of their employers.
Again, it's difficult to argue against making available to areas that lack it food that is fresher and healthier than pizza and burgers. Increased access to healthier food can't help but be a plus for those communities. But with so many negative consequences in tow, it seems unlikely that Walmart's takeover of DC will be a net positive.